Resources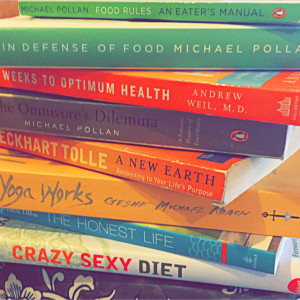 Here you'll find a list of great resources from books to movies, websites and blogs, and documentaries galore. I strongly encourage you to kick off or enhance your health and wellness journey by reading and learning from others. There are incredible writers, film makers, farmers, personal trainers, doctors, bloggers, and people that are just plain passionate for spreading the word about healthy living. Take advantage of their work and passion  as you apply it your arsenal of health-related knowledge.
Books: 
Food Rules // Michael Pollan
The Omnivore's Dilemma //Michael Pollan
In Defense of Food// Michael Pollan
8 Weeks to Optimum Health // Andrew Weil, M.D.
The Beauty Detox // Kimberly Synder
Crazy Sexy Diet // Kris Carr
The China Study // T. Colin Campbell, PhD. , Thomas M. Campbell III
The Honest Life // Jessica Alba
Healthy Child, Healthy World// Christopher Gavin
The Wholesome Baby Food Guide // Maggie Meade
Mindful Birthing // Nancy Bardacke
The Power of Now // Eckhart Tolle
A New Earth // Eckhart Tolle
The Athlete's Book of Home Remedies // Jordan Metzl, M.D.
Movies/Documentaries:
Food, Inc.
Super Size Me
Forks Over Knives
Websites/ Blogs:
Gyms/Studios: