Updated on January 15, 2016
Chocolate Protein Poppers
If you haven't jumped on the protein ball bandwagon, please join me! PS- These plant-based poppers are gluten-free.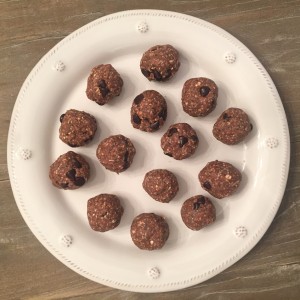 For years, I've loved the concept of raw and healthy snacks that you can easily whip up at home. From time to time I'll throw together a mixture or try some of the other amazing recipes out in the google-sphere.
Today, was one of those days where I just felt like a cookie. You know what I mean?
For most of us, it's typical around the post-lunch lull to want something like this. I often sip a hot green tea and nibble on some of my favorite Alter Eco Blackout chocolate. Today I recalled a great post on aloha.com that was recently shared on their website. That got me thinking I ought to whip up some protein balls to cure my cookie craving. I've been loving the chocolate Aloha plant-based protein powder in my smoothies and so it was destined to appear in this afternoon's creation (I get a protein supply mailed to me directly from the company that comes in handy single-serve packets which means I've always got it on hand).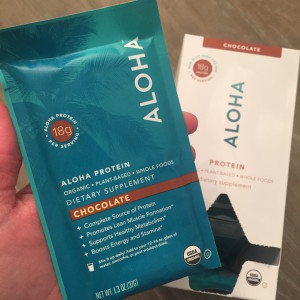 Here's how you can throw together these scrumptious chocolate protein poppers!
Mix the following dry ingredients together in a large mixing bowl:
Then mix in:
1/3 cup of 100% pure organic maple syrup
1/2 cup Justin's almond butter (I used maple almond which I keep refridgerated)
and throw in a handful of dark chocolate chips!
Stir well, but let's be honest…I got right in there! I worked the mixture with clean hands into a well-mixed dough and got to rollin'.  I rolled roughly 10-12 balls and put them on a plate in a fridge for 20 min.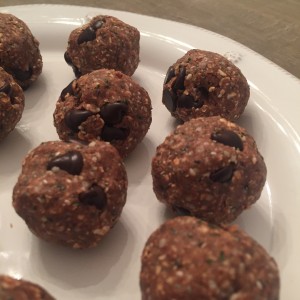 20 minutes later… Cookie fix taken care of! Even my little guy liked them!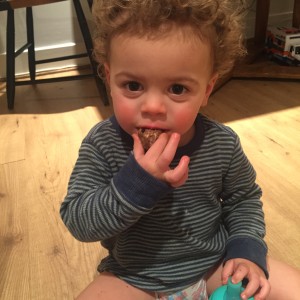 You can try this for yourself or get creative and see what you can come up with. Have a little fun and share your creation with me on Instagram by taking a photo and tagging @mindbodybespoke!