Here you'll find some of my "go-to" recipes. Many can be modified or adapted. Other eating tips and easy meals can be found in the MBB Blog as well!
Smoothies/Juices/ Bowls:
Ease Into It – Green Smoothie (good for those just starting out!) // 8 -10 oz Unsweetened Almond Milk, Handful of Spinach or Kale, One half Frozen Banana, One scoop of Almond Butter, One pitted Date, a few dashes of Cinnamon, 2-3 ice cubes optional (add more almond milk for desired consistency ) — Blend in Vitamix, Ninja, Blendtec, etc. Sprinkle chia or hemp seeds for an added bonus. Enjoy!
Green Lemonade // In Vitamix (or other quality blender!) 1 cup of cold filtered water, 1 handful kale, 1 handful spinach, 1 green apple, 1 lemon, and one piece of ginger root. You can choose to strain it or just gulp the goodness down.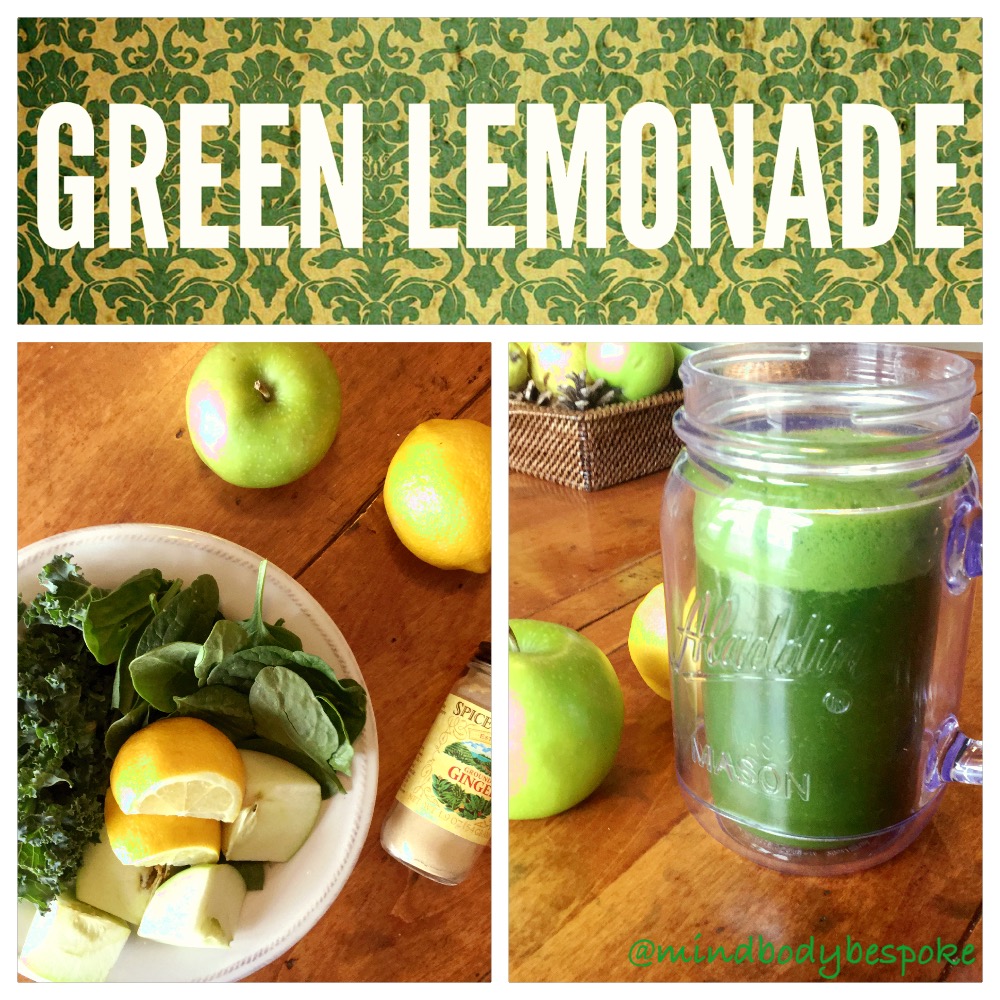 Simple Snacks:
Rice Cake "Pizzas" // Decorate an unsalted brown rice cake with your "sauce" of almond butter or peanut butter. Add topping such as banana, blueberry, raspberry or strawberry. Sprinkle "cheese" aka hemp or chia seeds (optional: drizzle maple syrup or honey)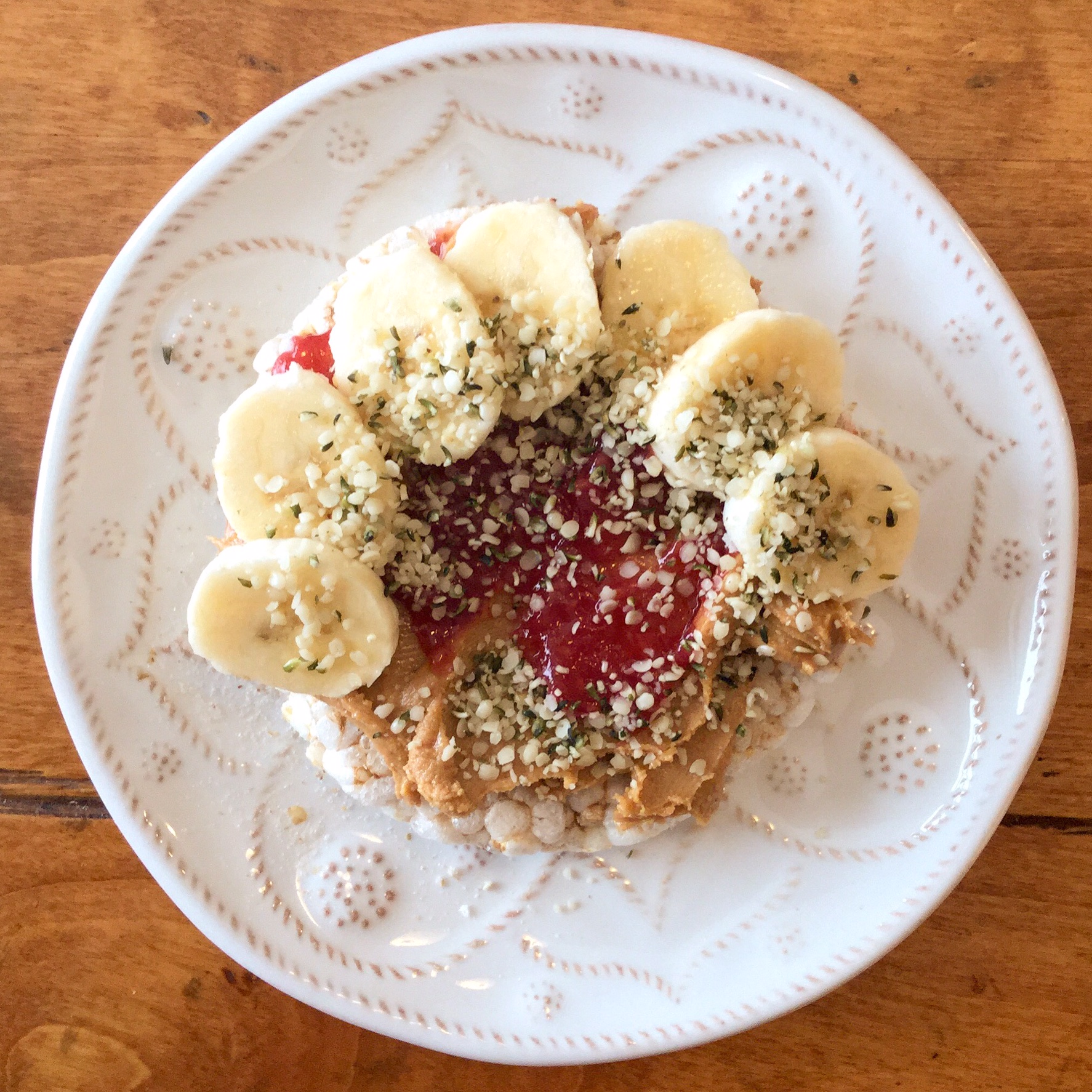 Nori Leftover Rollup with Avo and Quinoa // One Large Nori (seaweed) wrap. Add sliced avocado, premade quinoa (and any leftover veggies from fridge), drizzle hot sauce or add hummus, roll up and enjoy!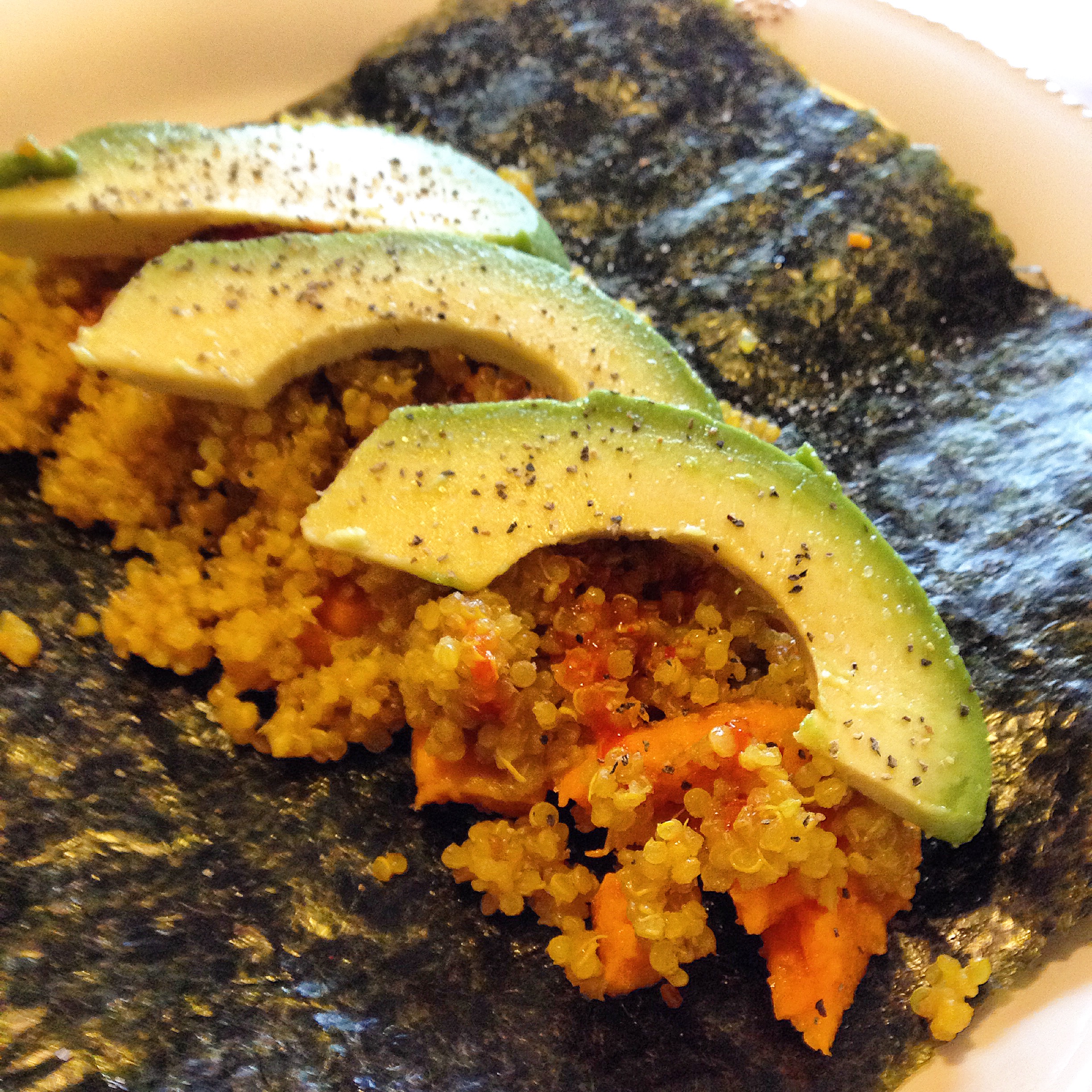 Veggies and Such:
No Fail Baked Kale // Preheat oven to 375. Line a cookie sheet with a layer of foil. Grab two large handfuls of pre-washed bagged organic kale and spread evenly over foil. Drizzle EVOO across the kale and sprinkle sea salt, black pepper, crushed red pepper, and some turmeric for an anti-inflammatory boost. Give it all a good massage to disperse seasonings, then bake in the oven 10-12 min, longer if you like it more crunchy.
Beans and Greens //
1) Tossed some pre-peeled garlic into a large saucepan with EVOO over medium heat.
2) Once the oil is hot and the garlic is golden, put in 2/3 cup of low-sodium veggie stock.
3) Add one bag of frozen broccoli rabe (Kale would work great too) and turn up to high heat.
4) Add one can of rinsed garbanzo beans (chickpeas)
5) Salt, Pepper, Red pepper to taste.
6) Down to medium heat and stir a bit until most of the liquid is worked into the dish. * These items can be stored in your kitchen for something to whip up when needed. Also, you can play with adding different spices such a turmeric and cumin!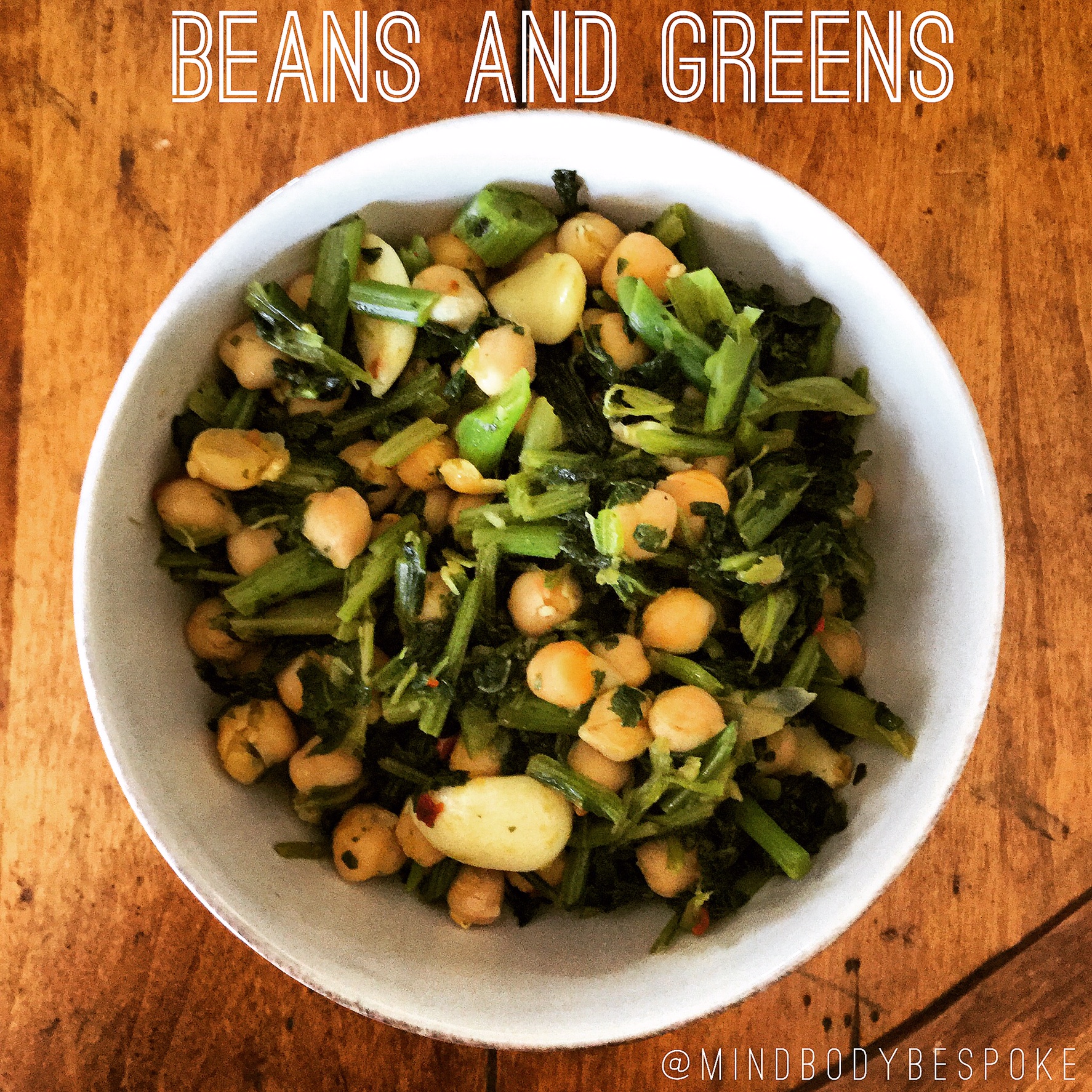 Golden Tempeh: Cut tempeh into cubes and put in a small mixing bowl. Drizzle EVOO, sprinkle sea salt, black pepper, and turmeric. Mix together. Place in a pan over medium heat and toss/turn until golden. Works great over salads or cook the same way but in long slices for sandwiches or nori wraps.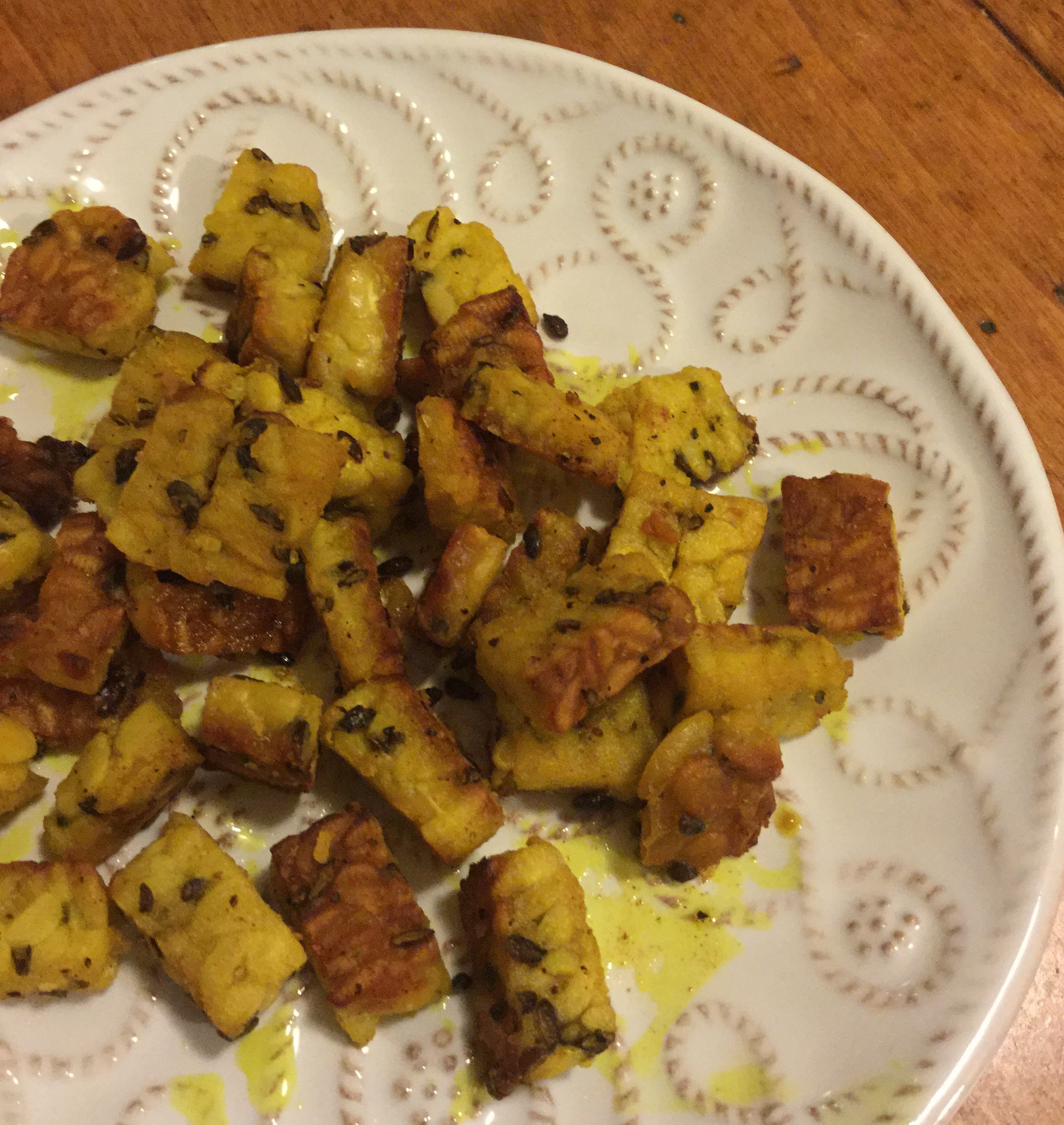 Sweet Tooth:
Coconut Choco-Banana Bon Bons //
1) Slice two perfectly yellow bananas into rounds and place into a dish.
2) Melt a heaping tablespoon of coconut oil with four squares of quality Dark Chocolate in a small sauce pan over medium heat.
3) Once melted, poured the semi cooled chocolate sauce over the bananas and roll them around a bit.
4) Using a fork, put the bananas on a cookie sheet lined with parchment paper. Then pour any remaining sauce over the top.
5) Sprinkle dusted coconut flakes on top (can also add peanuts!)
6) Cover with foil and freeze for at least one hour.
7) Pop one in your mouth and shake your BON BON. Repeat at least 3 times.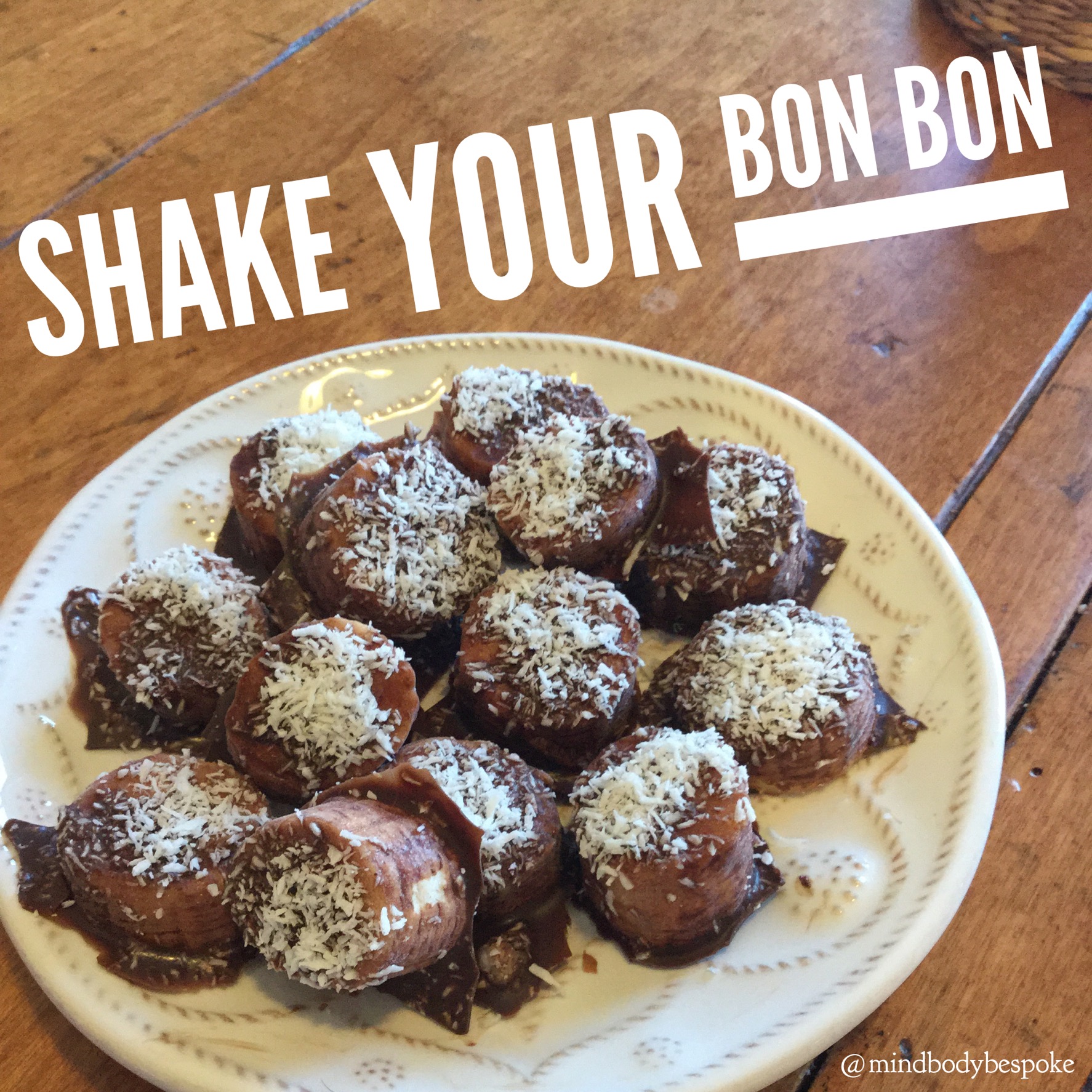 Dark Chocolate Covered Blueberries //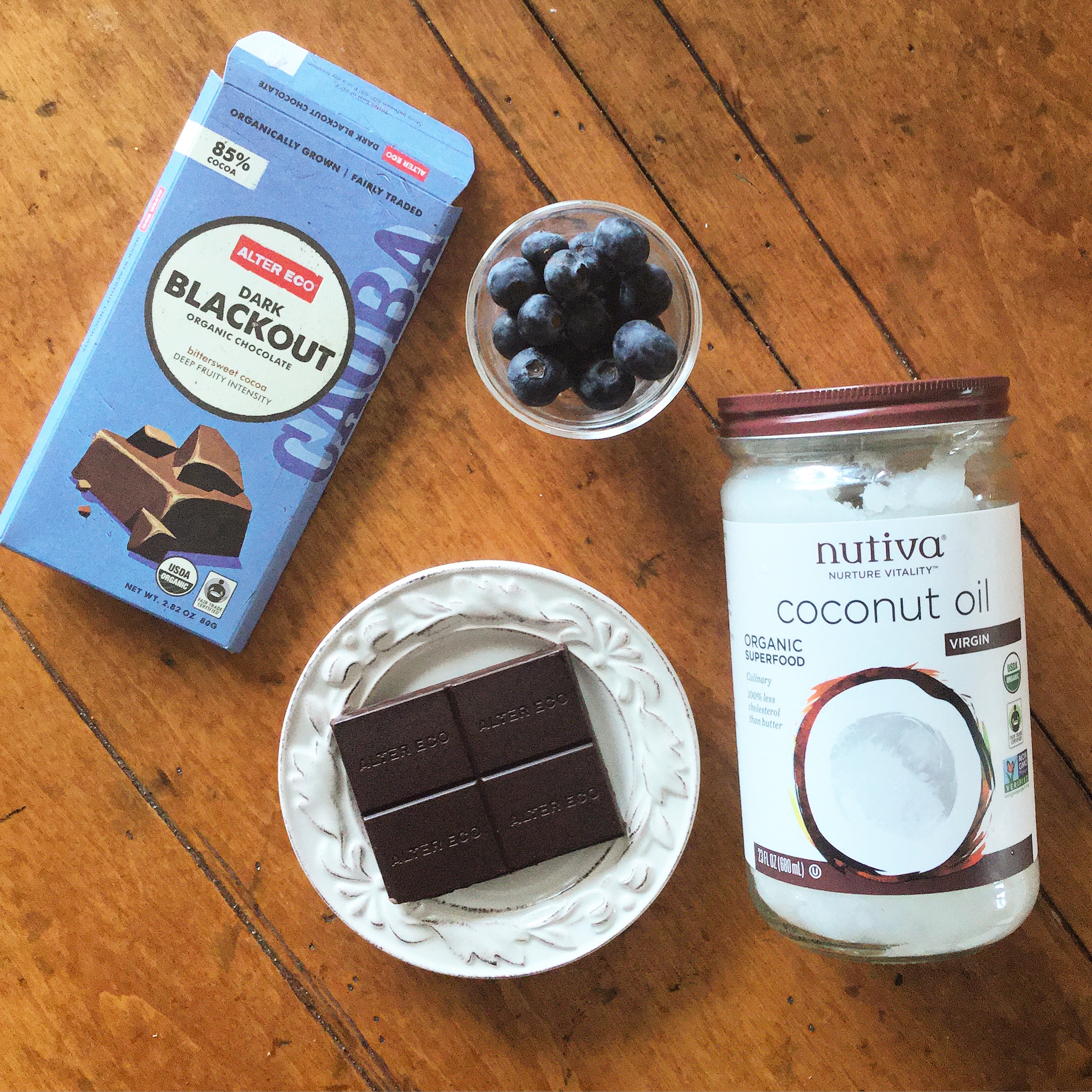 1) Melt one tablespoon of coconut oil over medium heat.
2) Add four squares of dark chocolate (I love AlterEco brand)
3) Mix together, turn off burner, and let cool for 1-2 minutes.
4) Add one cup of rinsed delicious organic blueberries.
5) Roll 'em around until they are coated in heavenly chocolate bliss.
6) Spoon them out onto a cookie sheet lined with parchment paper.
7) Place in freezer for 2 hrs. *When you're ready for them, let them thaw for a minute or two, then enjoy!