Updated on September 7, 2015
Secrets to a good salad
The moment I met my husband, my life changed (because I met his mother — who is awesome). While my husband and I have a story that is oh-so-sweet (high school sweethearts), this post isn't about that. Sorry honey!
This post is about SALAD.
Everyone who knows my mother-in-law, knows that she is a serious cook. In her immaculate kitchen, there is not a cookbook in sight. All the GLORY that comes to her table comes from years of experience, Italian heritage, and the pure love of cooking and family. There isn't a person who has been to her home who hasn't drooled over her masterful eggplant Parmesan, always asking for leftovers to take home ( let's be honest, leftovers are rarely available or disappear in the middle of the night…ahem). And while her cooking is simply divine, she is also known for making a massively large salad for every dinner, and it is DELICIOUS. This is where I learned to love salad. For years, I tried my best to replicate it, and eventually I've recreated my own version(s) of her famous salad.  Now it has become a specialty for myself as well. Friends comment regularly how they're loving my salad at potluck dinners! Cool! So here's some of my tips and tricks: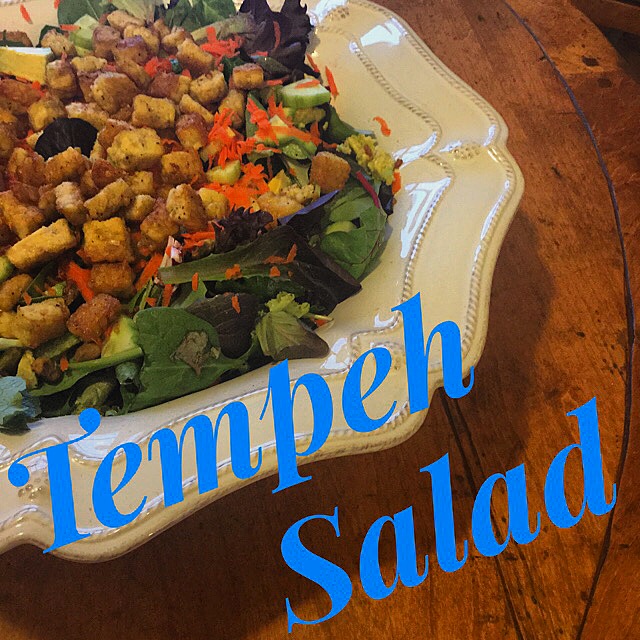 1. Don't be a bore – EXPLORE! Stop with the same old , same old. Ok—get what you like, then explore new possibilities. You may think you don't like something by itself, but paired with other yummies, and the amalgamation could be life changing! This applies to your greens too — forgive me wedge lovers but we've all moved on from iceberg ! Go after different greens, mix and match them, and see what glorious creations you can come up with! I love a good massaged raw kale salad. So here are some great combos and toppings to try out. I do limit dairy in my daily diet but I did include cheese options for those who love a good crumble in your salad:
pear, walnut, goat cheese
strawberry, slivered almonds, blue cheese
golden tempeh, sprouted pumpkin seeds (I like these by Go Raw)
Tomato, cucumber, onion, pistachio or sunflower seeds, Feta
Ribbon Carrots (use a peeler to create ribbons!)
Raw brussel sprouts (you may find these already pre-chopped in your grocery store!)
Thinly sliced hot peppers (perfect on a raw kale salad )
Salad Boosters like these by Living Intentions
Last but never least, AVOCADO. Which I love in and on everything.
2. Dress code is causal! I've gotten a lot of "what dressing is this?" and most of the time it is something I did without even thinking about it! Keeping it simple is the key. Mostly because of all the other delicious items that bring flavor to the salad. The absolute worst thing EVER is an overdressed, pundget, bitter, or sweet soaked salad. Not to mention the caloric overload that has probably incurred with the heavy handed pour. This is another reason why it is best to make your own dressing. Now don't get me wrong there are some great quality dressings to purchase out there but for every one dressing there is probably ten more that are filled with junk. Here are my basic go to dressing combos but the same principle applies from the previous paragraph—explore the possibilities! :
EVOO and Balsamic
EVOO and Raw unfiltered apple cider vinegar (I use Bragg's)
EVOO and Red wine vinegar
EVOO and Dijon mustard (sometimes honey)
EVOO and Lemon with Sea Salt and Black Pepper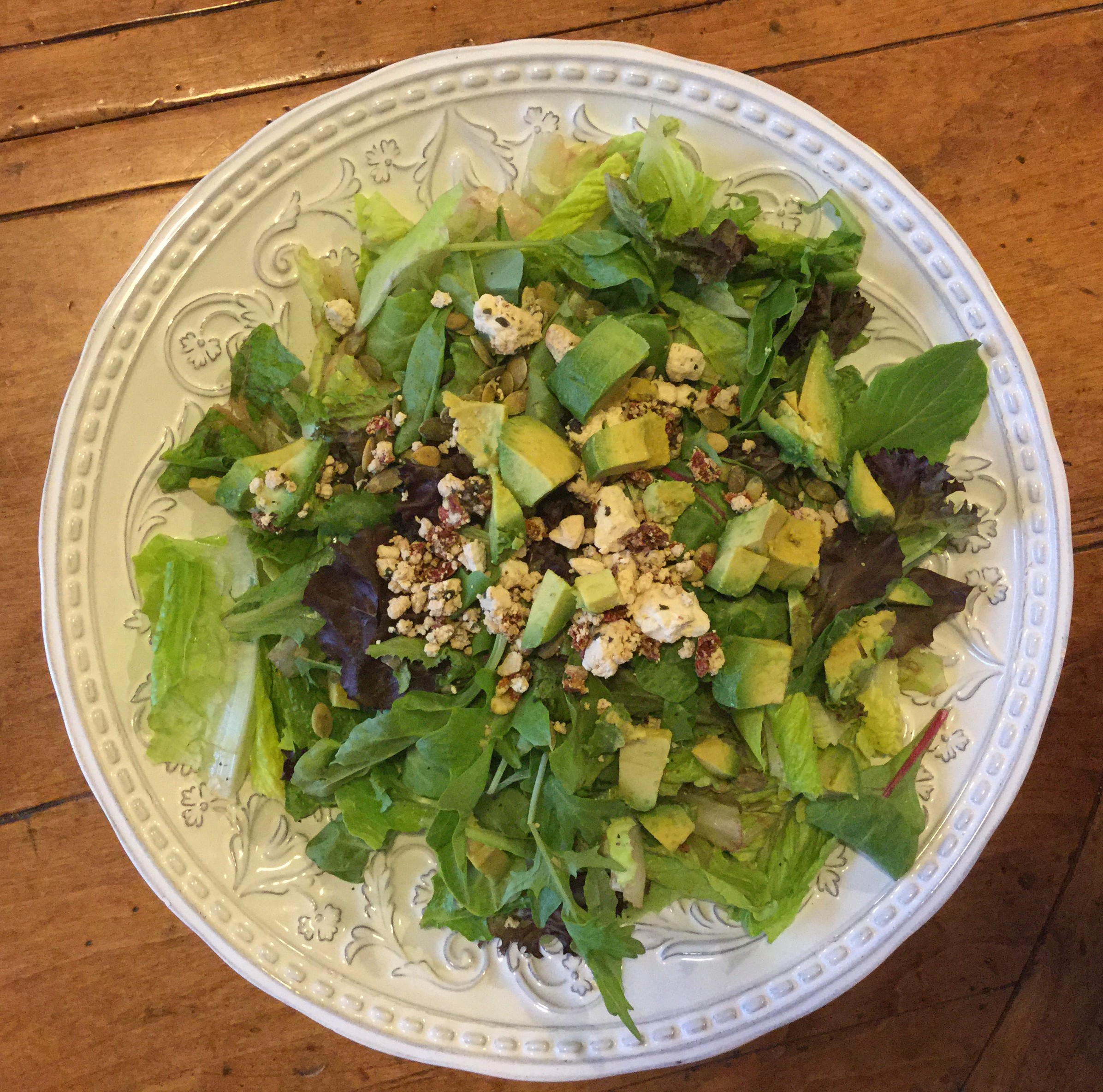 3. Chop till you drop! This is truly where the magic comes in. A great salad must be THROUGHLY mixed and chopped. I swear this makes a world of a difference. If you leave it up to people, they'll miss out if they take a bite of this and a bite of that. So before you serve a salad to anyone, chop it up! I go straight into it with a fork and knife and literally cut it up.
4. Spin it to win it! Lastly, with large tongs in my right hand (my mother-in-law got me hooked on tongs) and with my left hand on the bowl, I get to spinning. All this does is make sure the dressing and the toppings are evenly dispersed throughout the salad, ensuring that every bite is filled with the flavors and textures I've chosen. IT MAKES A DIFFERENCE! The "spinning" means just flipping over big "grabs" of the salad with the tongs and turning the bowl as I go. It's kind of a ritual ;0)
Hopefully this post has inspired you to create salads that are anything but boring. Leave a comment on your favorite salad combos and/or dressings!